Stage 2 – Responding to the Concern / Information Gathering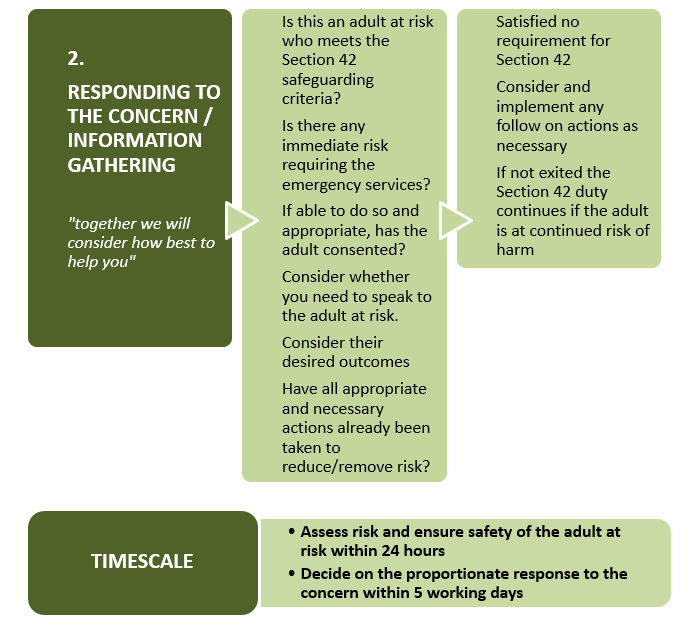 6.1 Receiving the Safeguarding Concern
A safeguarding concern may result from a person raising it through the local authority's contact point. However, it may also result from concerns emerging during care assessments or reviews undertaken.
When carrying out a care assessment or review, the local authority must consider the impact of the adult's needs, on their wellbeing. If it appears to the local authority that the person is experiencing or is at risk of abuse and neglect, they must undertake Information Gathering and decide at the earliest opportunity with the adult in question, what action, if any, is necessary and by whom.
6.2 Safeguarding Concern Received by the Local Authority/ Multi-Agency Safeguarding Hub (MASH)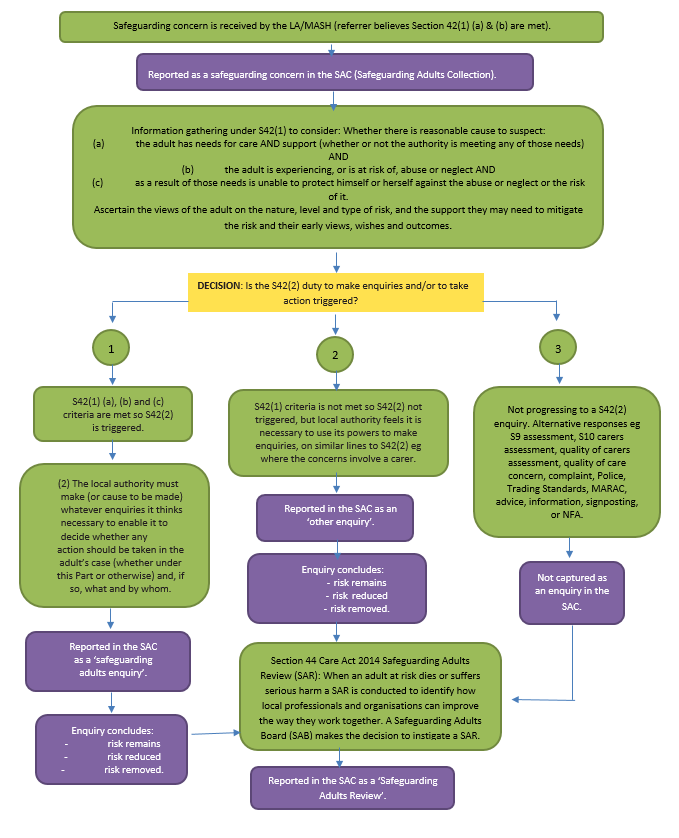 6.3 Duty to Make Enquiries
The duty on the local authority to make enquiries, or cause them to be made, applies where there is reasonable cause to believe that the Care Act three stage test has been satisfied (irrespective of whether the local authority is meeting these needs or not).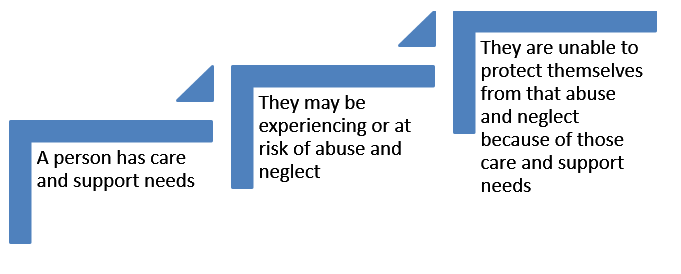 When a concern has been raised, the first consideration should be whether the person is an adult at risk. In practice, some information gathering may be needed to establish whether these three tests are met.
When the local authority becomes aware of a situation that meets the criteria described in the three step test, it must make or arrange an enquiry under Section 42 of the Care Act 2014. 'The local authority must make (or cause to be made) whatever enquiries it thinks necessary to enable it to decide whether any action should be taken in the adult's case (whether under this Part [of the Care Act] or otherwise) and, if so, what and by whom'.
The safeguarding enquiry may need to support or offer the opportunity to develop, maintain, a "private life". Having a private life includes the right of a person to define the "inner circle" in which they choose to live their life, including in particular the right to choose those with whom they do and those with whom they do not want to establish, develop or continue a relationship.
Unpaid carers will sometimes have care and support needs of their own. However, sometimes unpaid carers will only have support needs. In these circumstances this policy and procedures may still be used as a proportionate response to the concerns where appropriate, using its duty to promote wellbeing. This may be appropriate, for example, if an unpaid carer experiences intentional or unintentional harm from the adult they are trying to support.
6.4 Deciding if a Safeguarding Enquiry needs to be Undertaken
Once a safeguarding concern has been raised with the local authority, it must undertake information gathering to determine the appropriate response. The concern may be resolved quickly and proportionately by telephone enquiries, or it may be necessary to undertake further enquires or actions to safeguard the adult at risk, as a proportionate, risk based, safeguarding response.
If the adult at risk cannot keep themselves safe from abuse or neglect because of their care and support needs, or because they lack the capacity to understand what keeping safe means, or because they are being coerced in some way, then the local authority's safeguarding duty applies. If they are able to protect themselves, despite having care and support needs, then a safeguarding response may not be appropriate.
Local authorities are responsible for looking at any safeguarding concerns raised with them about any adult who has care and support needs and deciding whether it is necessary to carry out an enquiry.
This should include involving the person themselves, whose own wishes and preferences should be acted on as far as possible, in keeping with the principles set out in 'Making Safeguarding Personal'.
A large number of safeguarding concerns reported to the local authority are made by service providers reporting an incident involving an adult(s) for whom they are providing care and the action they have taken to resolve the matter and prevent any re-occurrence.
In some of the cases reported by the service provider the local authority may decide that the Section 42 criteria has not been met and the concern relates to a quality of service issue. They may need further information to make this decision, or they could accept it as meeting the criteria.
This involves:
Information Gathering;
Checking whether a response within this procedure is appropriate and proportionate to the concerns raised;
Making decisions about further action(s) that should be taken with regard to the person or organisation responsible for the abuse or neglect.
Safeguarding enquiries can vary in their depth and complexity and need to be proportionate, to the concern raised.
Often a telephone enquiry can establish that all necessary proportionate action has been taken, the adult's wellbeing has been considered and the adult is safe. In these cases, the s42 duty is complete, and no further action is necessary.
There may be some circumstances where the s42 duty is not met, but the local authority may choose to carry out proportionate safeguarding enquiries, in order to promote the adult's wellbeing and to support preventative action.
Enquiries into abuse of unpaid carers is an example of such an enquiry and self-neglect cases where the adult does not meet the s42 critiera, but is likely to be at risk of harm, may also fall into this category.
6.5 Poor Practice or Abuse
The purpose of the safeguarding adult's procedure is to safeguard adults at risk from abuse and neglect.
Safeguarding is not a substitute for:
Providers responsibilities to provide safe and high quality care and support;
Commissioners regularly assuring themselves of the safety and effectiveness of commissioned services;
The Care Quality Commission (CQC) ensuring that regulated providers comply with the fundamental standards of care or by taking enforcement action.
Where a commissioner or the Care Quality Commission are taking their own action in relation to a concern, the local authority must consider if these actions already form an appropriate and proportionate response to the concerns raised. If the local authority identifies possible abuse, including organisational abuse it will lead on those aspects of the concerns, but performance and quality issues will continue to be addressed by Commissioners and/or the Care Quality Commission.
Distinguishing between poor practice and neglect/abuse will often require a professional judgement.
It is important to consider the impact of the incident on the adult, whether others may be at risk of harm, and what the proportionate response to the concern should be.
Where the practice is resulting in harm for the individual concerned, abuse is likely to be indicated. It is important to consider the nature, seriousness and individual circumstances of the incident and the impact on the adult, before reaching a decision.
6.6 Quality of Service
The Care Act 2014 sought to clearly differentiate between quality of service issues and abuse, with mistakes and errors to be treated as such and actual abuse triggering an enquiry. The Care Act however, also required a response to quality of service issues as an important preventative measure to ensure mistakes did not develop into abusive situations.
All the local authorities have their own processes for working with service providers and are required to have contingency plans for market failure.
Some have a Multi-agency Quality of Service Forum which considers intelligence on the quality of providers' services, with the aim to intervene early to prevent quality issues escalating and becoming more serious.
The Care Quality Commission(CQC) plays a very important part in this as they have the statutory duty to ensure Regulated Services meet their quality standards.
All the local authorities have a service provider improvement process, which may include quality improvement planning meetings or less formal arrangements designed to support providers, to correct any identified quality failures.
Whatever system is followed, they are all aimed at working with service providers to ensure they provide a quality service for the benefit of the adults whose needs they serve. Refer to your own Quality and Market Improvement Team.
6.7 Proportionate Response
It is not always necessary or proportionate to contact the adult at the Information Gathering stage.
When the enquiry officer is undertaking Information Gathering to inform the response, they may decide, depending on the nature of the concern and risk, to contact the adult or their representative including the Commissioners of any care. If there is a concern about a care provider, the Commissioner should be informed.
Where the issue(s) has been resolved and the risk(s) has been mitigated as part of Information Gathering, the concern may be resolved quickly and proportionately by telephone enquiries. The enquiry officer may not contact the adult as they have identified that there is no need to proceed with the enquiry, which is a proportionate response to the concern.
The enquiry officer may have established from the information on the concern and through conversations with other relevant parties what outcome the adult wants to achieve. It may be identified that the issue(s) has been resolved, therefore the enquiry can be closed without any further action(s).
If it is not possible to speak to the adult or it is identified that by doing so may place the adult or others at risk, it would be appropriate to progress the enquiry to establish what urgent action(s) is required. Not being able to contact the adult is not a reason to not progress an enquiry.
INITIAL ACTION AND DECISION MAKING FOR SAFEGUARDING RESPONSE
Action
a) Establish the adult is safe

b) Establish the need for advocacy

c) Establish consent and if there is a concern about the adult's capacity to make relevant decisions by understanding the management of risk, what a safeguarding enquiry is, then arrange for a mental capacity assessment to be undertaken.

d) Establish how the adult might protect themselves

e) Is the adult aware of the safeguarding concern and do they perceive it as a concern / risk and want action/support

f) Is there suspicion that a crime may have been committed and is a report to the Police needed

g) Establish the adult's desired outcome(s)

h) Provide feedback to the person who raised the concern
Gateway / initial Information Gathering
Decisions
a) Whether actions so far have completed the enquiry

b) Does the concern need to proceed and is a Planning Meeting / discussion required

c) Whether to proceed without the adult's consent

d) What follow-up action(s) may be needed

Decisions made by the Enquiry Officer / Safeguarding Co-ordinator