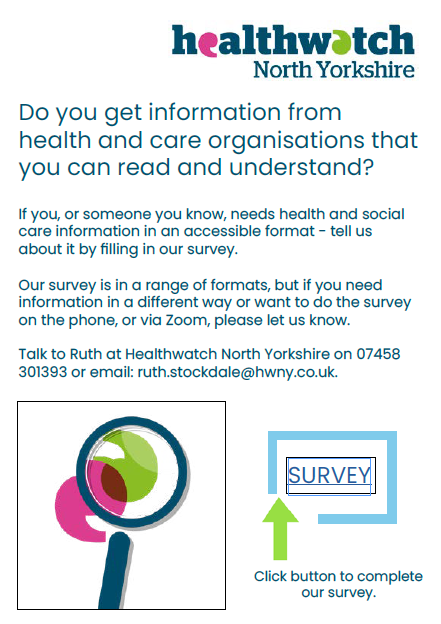 North Yorkshire County Council are working in partnership with Healthwatch York and Healthwatch North Yorkshire, to ensure more people are getting health and care information they need in a format they can access.
Accessible information means that everyone should get information and communication from key organisations that they can understand. Organisations that should provide accessible information include health bodies like GPs, dentists, hospitals, clinics and care providers like councils and care homes. It is good practice for other organisations like council departments, colleges and workplaces to provide information in a format people can understand.
We want to hear about people's good and bad experiences and we are inviting people to complete our survey which comes in in a range of formats.
If you are a part of, or support a group who would like to talk to us about their experiences, please let us know, similarly please feel free to share with organisations or individuals you know may be interested. If there is anything else we can do to support you to circulate the survey or any questions you have, please don't hesitate to get in touch.
The dates for completion dates online are 22nd March and for paper versions 22nd April 2022.
There is going to be a survey for providers due shortly and details will be shared on the NYSAB website.